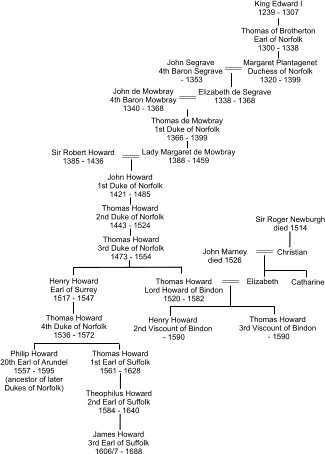 Howard family genealogy
The Howards were one of the most important and significant families of late medieval England. They were also one of the most dangerous - a family that kings of England could not do without, but had to handle with extreme care. A succession of Howards lost their titles and lands (and occasionally their heads), but the family kept being restored to its glory.
Origins and rise of Howards
The Howard family itself does not have roots of great antiquity, but quickly rose to a position of importance through strategic marriages. In particular, Sir Robert Howard married the daughter of Thomas de Mowbray, the Duke of Norfolk, who was descended through his mother and grandmother from King Edward I. When the Mowbray line died out, this allowed Sir Robert's son, John Howard, to become Duke of Norfolk, a title his descendants still hold. John Howard and the next four generations of Howards lived through the Tudor age, rising and falling in power as the nation's religion changed and as monarchs came and went.
Inheritance of Lulworth estate
The 3rd Duke of Norfolk was uncle to two of King Henry VIII's wives, Anne Boleyn and Katherine Howard. This Duke had two sons. The younger son, Thomas Howard, married Elizabeth Marney, daughter of John Marney and grand-daughter of the last of the Newburgh line. He thereby inherited half of the Newburgh estates based at Lulworth. Eventually, by inheritance and purchase, he came to own the whole Lulworth estate, including Sutton Poyntz; he took the title Viscount Howard of Bindon (after Bindon Abbey, near Winfrith Newburgh).

This Thomas Howard was succeeded, in lands and title, by his two sons, Henry and Thomas. These two seem to have been extremely unpopular, and Henry, in particular, is alleged to have indulged in piracy. However, they both died without heirs, after which the Lulworth estate passed to their distant cousin, Thomas Howard, 1st Earl of Suffolk.
Earls of Suffolk
The 1st Earl of Suffolk was the younger son of the 4th Duke of Norfolk, who was first cousin to Henry and Thomas (Viscounts of Bindon). His mother was Margaret Audley, an heiress, through whom he inherited Audley End and other land in Suffolk. In early life, he was an admiral, fighting against the Spanish. After illness curtailed his military career, he held a variety of significant posts, culminating in the office of Lord High Treasurer to King James I. As his influence rose, he initiated a huge (and unaffordable) building programme, including the building of a new Audley End House, the largest private house in England.

His fortunes then crashed; he was accused by the king of embezzlement from the royal treasury, and of extorsion. He was fined, and imprisoned for a time. Although he was released from prison, he never gained his former position.

The 1st Earl of Suffolk was succeeded, in title and estates, by his son and grandson. His grandson, James Howard, sold the Dorset estates in 1641, to Humphrey Weld. The list of properties sold includes Cullifordtree Hundred, but does not explicitly include Sutton Poyntz. For reasons that are not clear, it seems that Sutton Poyntz was sold separately, to Eliab Harvey of Rolls Court in Essex.