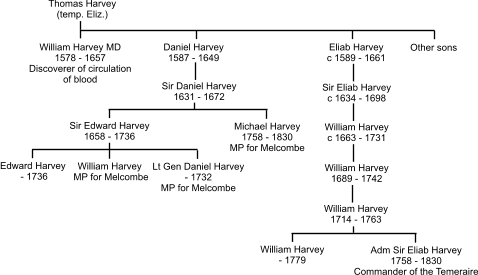 Harvey family genealogy
The Harvey family stemmed from a successful Kent merchant in Elizabethan time, a period when the ancient pattern of wealth deriving from the ownership of land was changing rapidly, and fortunes were to be made from trade. Little is known of Thomas Harvey, but he was Mayor of Folkestone in 1600. He had seven sons and two daughters. Interestingly, descendants of one son were Members of Parliament for Weymouth, although they did not live in Dorset, and had no particular connection with Sutton Poyntz.
Dr William Harvey
The most distinguished of Thomas Harvey's sons, by far, was his oldest son, William Harvey. William was educated at King's School, Canterbury, and then at Caius College, Cambridge. After Cambridge, he took a second degree in Medicine, at the University of Padua. He practiced medicine at St Barts in London, and steadily rose, becoming Physician to King James.

William Harvey's claim to immortality was based on a single, ground-breaking, scientific publication, called De modu cordis. In this, he broke with ancient tradition about the nature of the flow of blood in the body. This tradition derived from an excellent and hugely influential Greek physiologist, Galen, who in the 2nd Century AD had maintained that blood in the body consisted of two separate flows - the veinous flow which transported nutrients from the liver to the organs of the body, and arterial flow which brought heat and air from the heart. William Harvey's research and publication demonstrated for the first time that this had in fact to be all one single flow, connected via capillaries (whose existence he had to hypothesise and was not proved until a few years after his death when microscopes were powerful enough to observe them), and powered by the heart.
Owners of Sutton Poyntz
Eliab has never been a common English forename, although three Harvey's had the name. Three separate Eliab's are mentioned in the Bible; the most significant was the oldest brother of King David.
The fifth son of Thomas Harvey was called Eliab Harvey. He was a successful merchant in his own right, and purchased an estate near Chigwell in Essex, where he built a mansion called Rolls Park.

In 1641, James Howard, 3rd Earl of Suffolk, sold most of his Dorset estates (which the Howard's had inherited about 100 years earlier) to Weld Family. For reasons that still need research, Sutton Poyntz was sold to Eliab Harvey. We believe this sale was direct from James Howard to Eliab Harvey, who both lived in East Anglia.

The Harvey family then owned Sutton Poyntz for the next 150 years. As they lived at Rolls Park, Sutton Poyntz was a somewhat remote part of their land-holding.
Admiral Sir Eliab Harvey
The last Harvey to own Sutton Poyntz was Admiral Sir Eliab Harvey. This Eliab Harvey joined the Royal Navy as a 13-year old, although he seems (in line with quite common practice) not actually to have ventured to sea until he was 15. When he was 20, his elder brother died, and he inherited the family's large estates and wealth. For a time after that, he did not spend much time at sea - despite that, promotion came his way, so that by the age of 25 he was made up to Captain. In 1790 and again in 1793 (at the outbreak of the French Revolutionary Wars), he was recalled to active service. He commanded a number of ships, but his most important command was of HMS Temeraire (the "fighting" Temeraire), at the Battle of Trafalgar in 1805. In this battle, he evidently tried to sail past HMS Victory to the vanguard of the British fleet, but was sent back to his proper station by a signal from Nelson. Harvey and the Temeraire fought brilliantly at the battle, and Harvey was rewarded by promotion to Rear Admiral; he was also a pall-bearer at Nelson's funeral.

In 1809, Admiral Harvey quarelled over tactics with his senior officer, Admiral of the Fleet Lord Gambier. As a result of this, although he received further promotions, he was never again apponted for active naval service.

Outside his naval career, Admiral Harvey was elected as a Member of Parliament on several occasions. As a young and very wealthy man, he led a racy life style. On one occasion, it is reliably reported that he gambled £100,000 on a single game, on the occasion of his 21st birthday. The story goes that the victor offered merely to take £10,000, on the basis that Harvey could not afford the full amount; Eliab Harvey insisted on gambling again for the difference, and this time won. Apparently even the £10,000 was never paid.

Whether it was because he needed money to feed his gambling, or whether it was because his naval career left him insufficient time for outlying parts of his land-holdings, some time in the early 1790's, Eliab Harvey sold Sutton Poyntz. He sold it to the owner of the Lulworth estate, Thomas Weld; this sale reunited Sutton Poyntz and Preston with the remainder of the Lulworth estate, which had been sold to the Weld's about 150 years before.